How to transport Budgie ?

Transporting pets seems an easy task unless you are dealing with birds. Although I'm specifically talking about budgie birds, it's pretty much the same with other kinds of birds as well.
You can place a cat or a dog inside a cage and carry it on a car seat or your bicycle's basket without worrying much about the pet.
As birds are flighty, sudden noise and movements make them leap off their perch and try to fly away. If any bird does this repeatedly, the attempts can cause physical damage to the plumage.
To make sure such unexpected things don't happen to your beloved budgies,
in this article, I'll share a few tips to safely transport your birds, be it a short trip around the city, going to the vet, or shifting home to another place.
To take your budgie to the vet, use a travel carrier that can be secured with a seatbelt.
Cover your budgie's cage using a blanket to avoid car sickness, and avoid jostling it.
Drive slowly, avoiding any bumps or sudden stops. If you have time, let your budgie get acquainted with the carrier in advance and get it used to being handled.
This post may contain affiliate links which means if you click on a link and choose to make a purchase I may receive a commission at no additional cost to you.
Accessories to transport Birds
If this is your first time moving birds to another location, you are probably confused about using the proper tools to move your bird.
This concern is for the bird itself. Would he be safe, or would he feel more comfortable in a box?
This depends on whether you will need a cage or crate to carry the bird in a car, plane, or other means of transportation.There's a few solutions
Cage
Transporting a budgie in the same cage it lives in can associate the cage with bad experiences.
That can lead to stress and behavioral issues even once the budgie has returned home.
Likewise, it may be difficult to properly secure the cage, and you might struggle to fit it inside your car.
If it's allowed to shake or bump around, this will unsettle your budgie.
Box
A cardboard box is a cheap option, but such an unfamiliar environment isn't safe for your budgie.
There may be tape, staples, or glue attached to the inside of the box that your budgie will start eating.
Being unable to see outside the strange box can lead to stress and cause your budgie to try to escape.
Taking your budgie to the vet in a box removes the possibility of the vet doing a checkup from a distance.
The vet will have to physically take your budgie out of the box to get a good look at it.
Travel Carrier
They are specially designed to contain your budgie, make it comfortable, and ensure it's simple to access.
They're well-suited for single vet visits or numerous trips.
The main points to consider when purchasing a travel carrier for your budgie are the following:
Size of the travel carrier
Materials the carrier is made out of
Quality of the materials used
Durability of the materials, which usually translates to how escape-proof the carrier is
Things Not to Do While Transporting a Budgie Birds
Be careful when transporting a Budgie. In this paragraph, we have collected some points that you should avoid:
Don't put the box or cage in the car's boot. It will slide around, and the exhaust fumes will cause several health issues to the bird.
The dashboard is another place where you shouldn't put the cage in regardless of how small the cage is. It will slide around from there as well.
Make sure there is no food or water inside the carrying device. Your bird doesn't need them while moving to another place.
You can feed the budgie when there is a break in the journey.
Final Words
While transporting your budgie birds, make sure there are no risky elements or chances of facing difficult circumstances on the go.
Be sure to observe what the bird is doing inside the carrying device periodically.
The bird might get a bit stressed, but as long as there is nothing that might hurt the bird, you have nothing to worry about.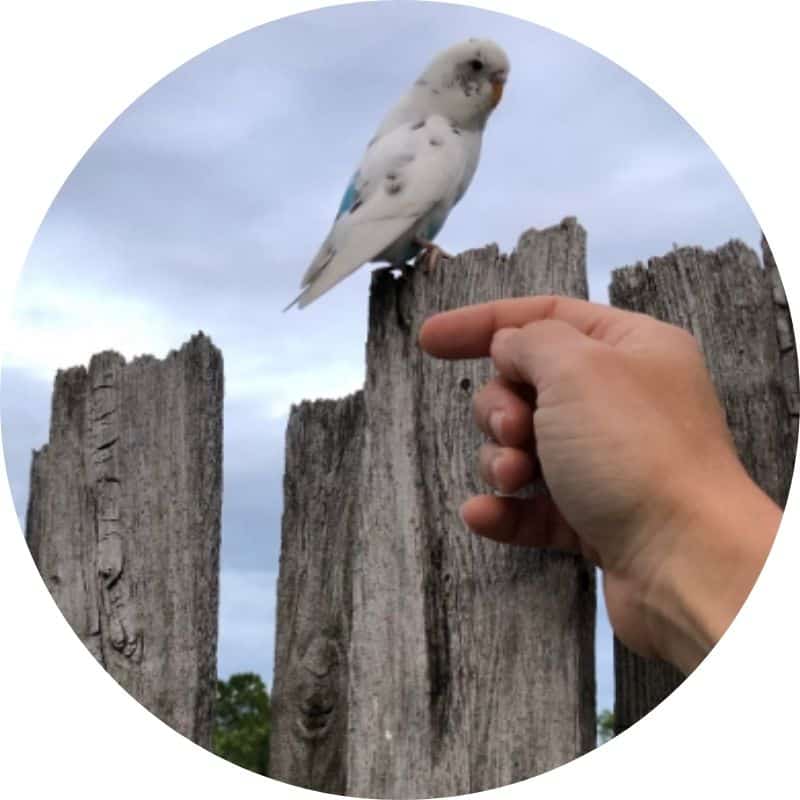 I am a proud Budgie owner who loves to share everything that I discover and learn about Budgie's. EnglishBudgie.com is the ultimate resource for learning everything about your pet Budgie.